Morale App

Download Morale now to spread positivity
Start your journey with Morale today. Available on Google Play for Android and the App Store for iOS, positivity is at your fingertips.
It is no secret that some of our favourite social media platforms aren't always the safest or healthiest spaces. Morale has created a new narrative; a support group in your pocket. Morale will be there for you when you need a boost, as well as allowing you to support family and friends. Social wellness is at the core of our mission which is why the power is in your hands to curate a community that is empowering and supportive. With safety features in place that reduce the likelihood of dealing with negativity you can rest assured Morale will be a place for positive affirmations only.
Sound like something you want to get involved with? Select one of the options below to get started.
Morale App

Download Morale now to spread positivity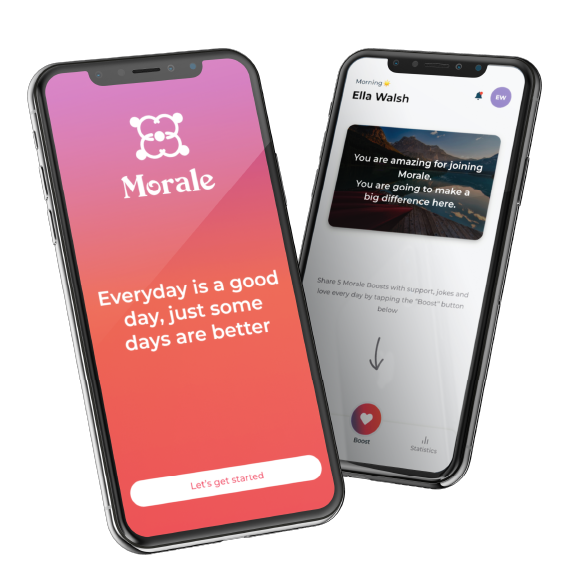 Morale App

Find out why
---
Amazing
Innovative and brilliant. What a clever and thoughtful app.
Alicepak
Fantastic app
I've been using Morale for a while now, and I love the app and the ethos behind it. It's a great way to let someone know you're thinking of them in a personal way, a great change to the use of social media, couldn't recommend it highly enough!
plegg11
What we all need
Fantastic app! A wonderful and possitive app that we should all have. The easiest way to spread a little bit of kindness and support in this world.
DILPWE
Really fun
It is a really fun habit to get into and I like the new features
BBHS123
Positive Communication is the best way
Promotional engagement with friends is the best form of engagement. It provokes laughter, amusement, exercises facial muscles when smiling and enhances personal relationships. Doing this digitally allows for this to be done when face to face is not an option and this is surely a good thing!
E10C66
Inspired
A fabulous app to better ones outlook and others around. A simple and lovely way to brighten someone's day.
Gcbytrfdswaqertfcg987603
Great Idea!
Love this app. Such a good idea. One thought for improvement – I just received an encouragement that was too long to fit on the image. Maybe make a way so that you can see the entire message if it's a long one?
Gugnesh
Fantastic
Amazing product that brings positivity everyday to your friends and family
Miss.Williamson
Amazing App – a must have for these times
So important and effective. Just what is needed during these times. The app is very user friendly and easy to navigate. A must have
BaringC